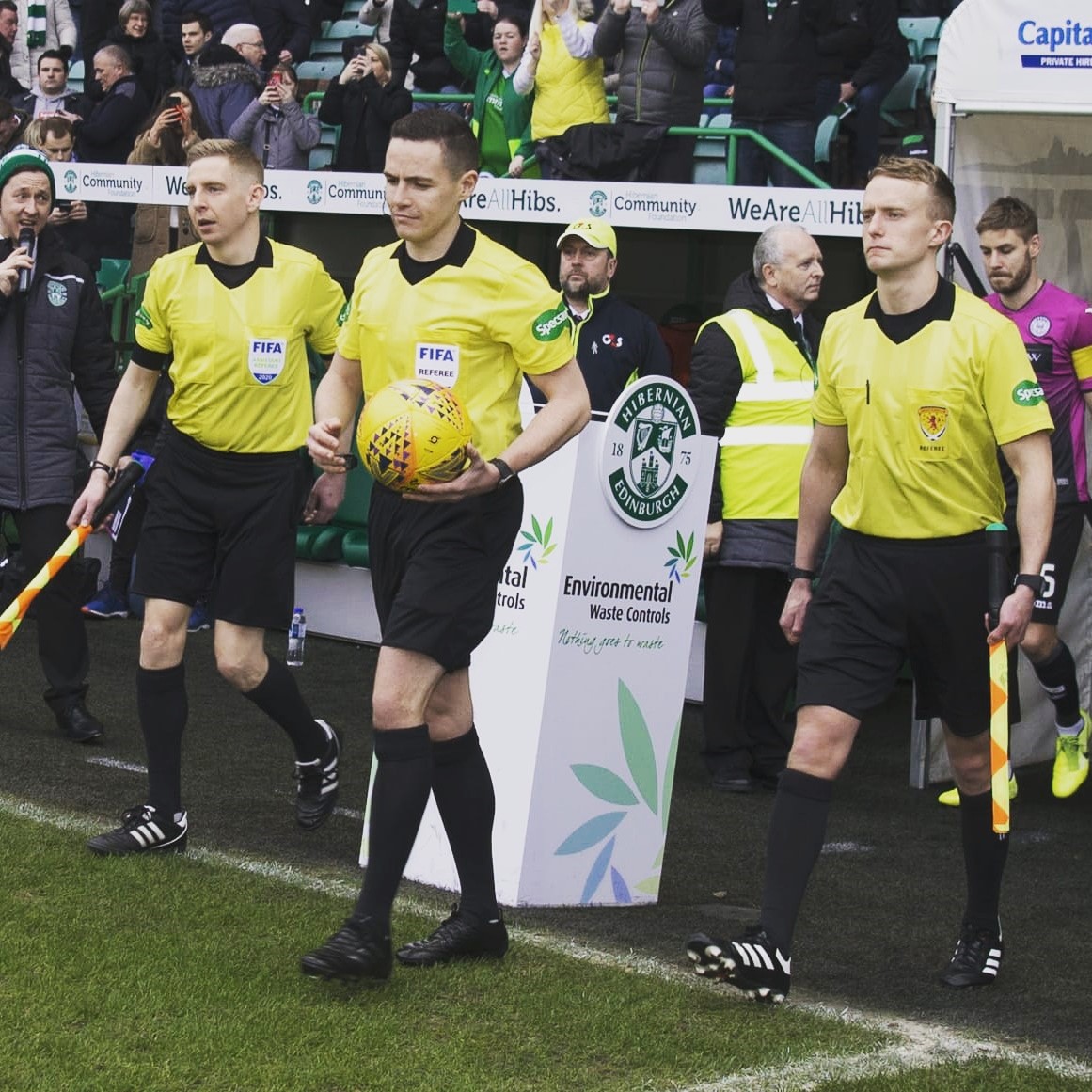 From Fernhill Rovers to FIFA
On 26th February 2006, aged 17, I refereed Fernhill Rovers vs. Glendale under-13s, at Aulton pitches in Seaton.  I got a taxi there which cost me most of my £16 match fee, as I couldn't drive, and I met my mentor Gary Cheyne for the first time.  There was a biting wind and all I had was a threadbare second hand top with a cotton t-shirt underneath.  The game finished with a late winner for Fernhill, where I judged from about 30 yards that the goalkeeper had carried the ball over the line after a save.  The reaction of the Glendale coach gave me a taste of what was to come.
I started refereeing because I loved football, and the team I was playing for folded.  The news that I could be paid was music to my ears, as it meant I could give up my paper round.  I soon refereed many more matches in the juveniles, and the support of Gary Cheyne and many others in the association meant that it became much more than a hobby.  As the years past, and I obtained many thermals(!), went to training, and developed by listening to the advice from the many supervisors who watched me.  They give up their time to help referees and their guidance is invaluable in the early stages of anyone's career.
Soon I progressed to referee Amateurs, Juniors and Highland League.  It all now seems a blur now but what I will say is I remember looking forward to matches, especially when working as part of a team, and I remember much less about the matches as I do the times I spent with colleagues off the field.
After refereeing in the Highland League for a few years, I began to realise that my chances of progressing any further as a referee were dwindling, and at the same time I was really enjoying running the line in the football league.  Was I better as an assistant than a referee? Absolutely.  I spoke with Association Manager Sandy Roy, and soon I was on the SAR development list.  Sandy has always been supportive and open about what the future might hold for each referee.
I was soon officiating in League 2, League 1 and the Championship.  Part of the attraction of becoming a Specialist Assistant Referee was the opportunity to be involved at a higher level, if I could keep performing well, so I was delighted to be getting these opportunities.
On 16th May 2017 I was appointed to my first Premiership match – Partick Thistle vs. Aberdeen on 21st May.  Just like every other step up had been, this was an incredible feeling, but this was also something extra special, with it being the top league.  The Referee was Euan Anderson who has the perfect calm demeanour to put a nervous AR at ease.  The game went well, and over the next couple of seasons, more and more Premiership matches came my way.  The infamous coin incident happened, and if I wasn't already comfortable with the scrutiny of top-level football, I soon would be.  There were times it seemed unbelievable to be involved in some matches, but I made sure I focused on doing well.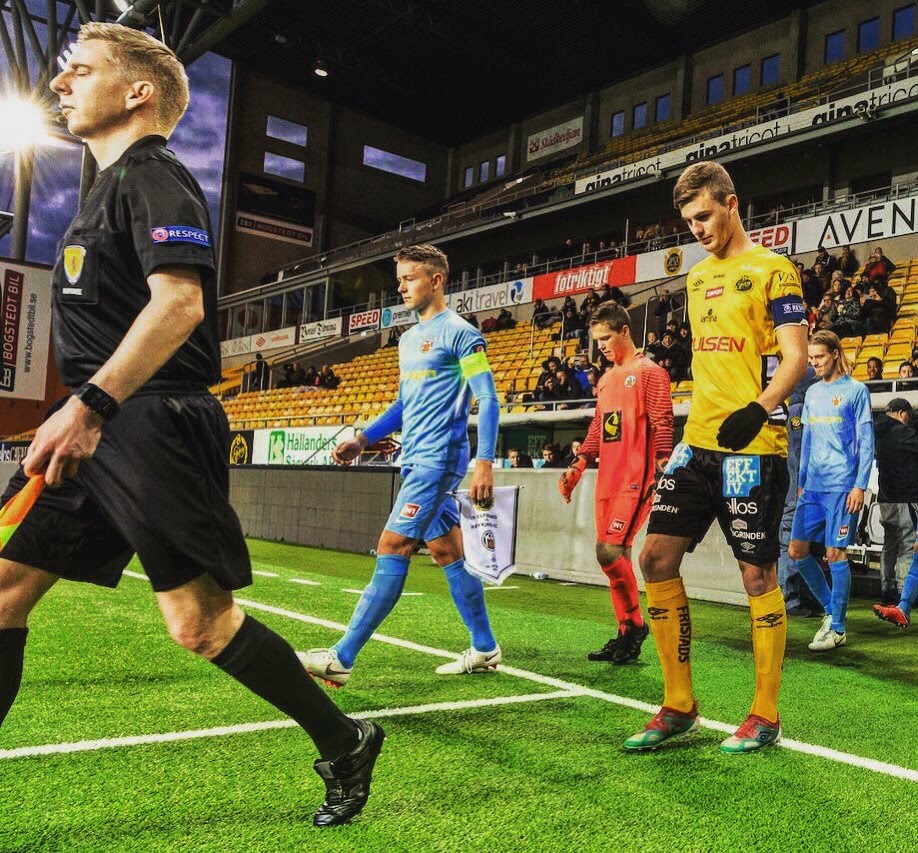 In July 2019, I was appointed to match in Belarus (From Bucksburn to Belarus was my second choice for the title…) in the Europa League.  I had done UEFA youth matches with Don Robertson and Kevin Clancy, but this was the first teams, and a really great feeling to be selected, and I travelled with Nick Walsh who is an excellent FIFA Referee.  I did another Europa League match later that month and then continued with domestic matches.  There were of course rumours about who was to be selected for the FIFA international list, but I genuinely didn't believe it would be me.  Later in the year I was sitting at home when an email came through, advising me of my selection.  I was obviously over the moon, and once all the formalities were complete, I received the badges.  (Funny story – I put the badges inside a heavy book to flatten them, and the book ended up going to the charity shop, who shipped it to another shop in Dundee where they needed more books(!) After some panic, calls and emails, the badges were safely returned!)
I will have to wait longer than most to wear the badge in Europe, due to the pandemic, but it will be worth the wait.
My advice to anyone looking to progress in their refereeing career?  Control what you can, be assured and professional, listen to the advice and most importantly, enjoy it.  Oh, and take pictures.
Road to Hampden by Kenny Taylor
When I became a referee at the age of 50 I never in my wildest dreams thought I'd achieve what I have done over the last 9 years.  Accepting the fact that I would not climb through the ranks, my goal was to keep fit, enjoy myself and put something back into a sport I have loved and played for more years than I care to mention.
I have spent my entire refereeing career in Amateur football, and whilst there have been a few moments why I wonder what on earth ever made me become a referee, the good moments far outweigh the scary ones.  I have had the pleasure of being the "man in the middle" at many cup finals over the years and enjoyed every single moment of them, assisted by some great colleagues.
My 1st major honour came in my 1st full year as a referee in 2011 when I was asked to officiate at an Amateur Scottish Match at Broadwood Stadium, against Ireland.  I remember being extremely nervous but at the same time thrilled to have the opportunity, and it just whet my appetite to be more involved in being a Referee, and my aim was to get better with every passing season.
Over the years I was fortunate to get more Scottish Cup ties and each year I prided myself on getting further and further in the National Tournament as away days were a great experience.  In 2016 I was appointed match Referee for the Amateur Cup Semi Final in Hamilton on a Thursday evening which was a wonderful experience, despite the fact didn't arrive back in Aberdeen until the wee small hours of Friday morning.
Last year I thought my biggest achievement had come when I was appointed AR1 for the Scottish Amateur Cup Final at Hampden Park on the 27th of May; the day after Celtic had defeated Aberdeen – a match I attended.  It took a while to sink in that I was coming back the next day in an official capacity.  The day itself was a wonderful occasion and I appreciated the fact it had been several years since an Aberdeen Referee had officiated at the cup final but I so much wanted to be that man in the middle.  The whole experience was great and finished with receiving a memento to mark the occasion which will be mine forever.
As the months of last season went by I recall sitting with some referee colleagues thinking that my chance of getting an appointment in the latter rounds of the Scottish Cup had passed, and my role as an assistant at Hampden was as far as it was going to go.  The following Tuesday whilst out working I took a call from a Glasgow number and the voice stated who he was from the SFA and asked my availability on Sunday 20th of May.  I quickly said yes and asked why and he told me they wanted me to officiate the Cup Final at Hampden! What a fantastic experience and a day I will never forget.
When I took up refereeing I initially thought I would give it a go, and if nothing else it would keep me fit – I have trained when I can on a Tuesday evening for over 8 years now taking pride in my fitness and being able to manage my games on a Saturday.
My story should be living proof that you will get back what you put in refereeing, as I never thought for one minute I'd end up doing a Cup Final at Hampden.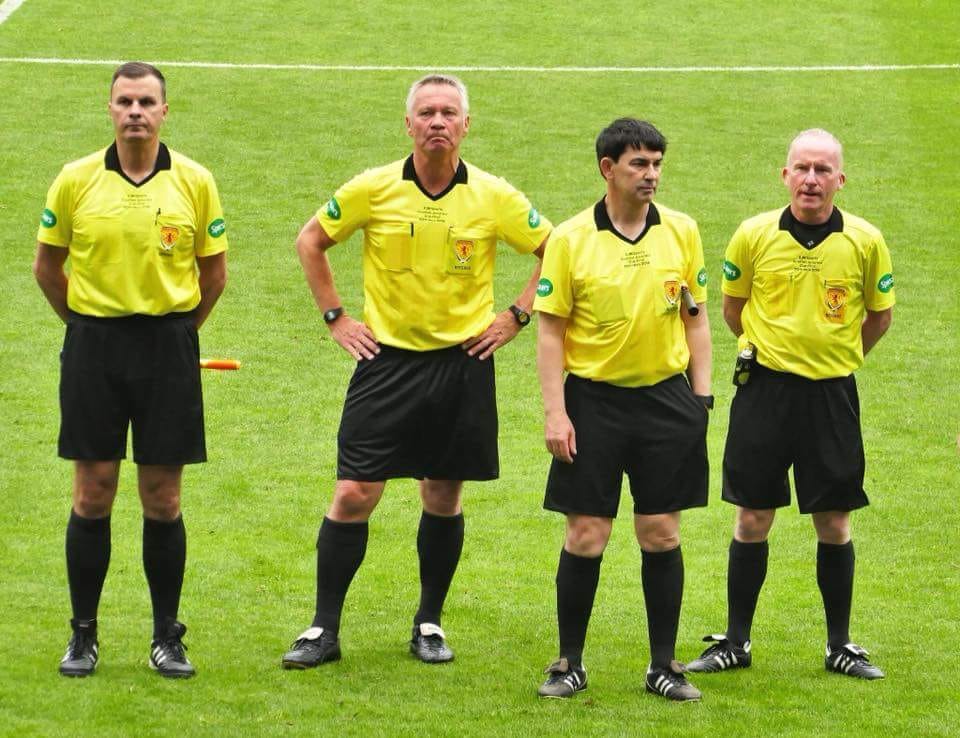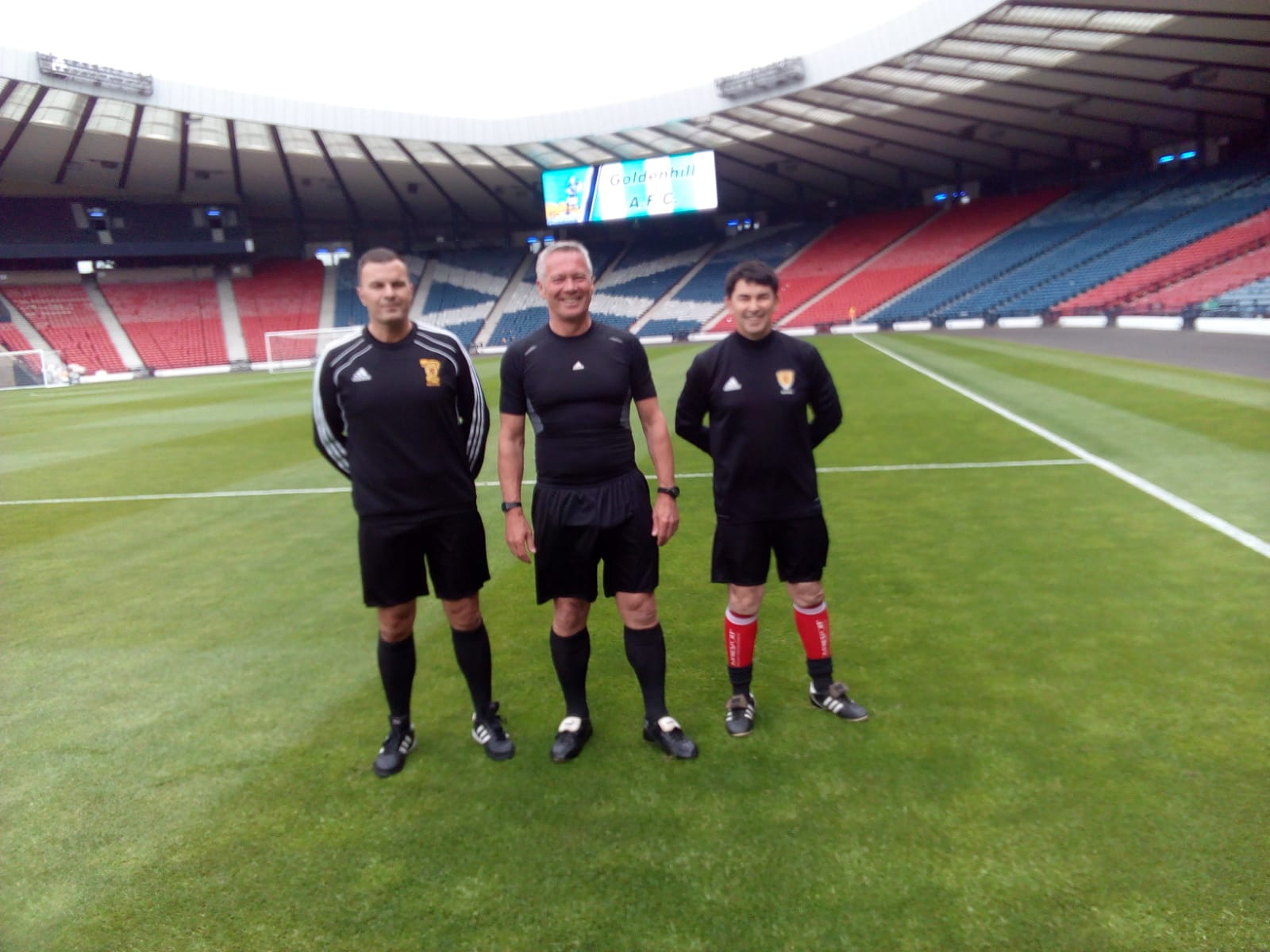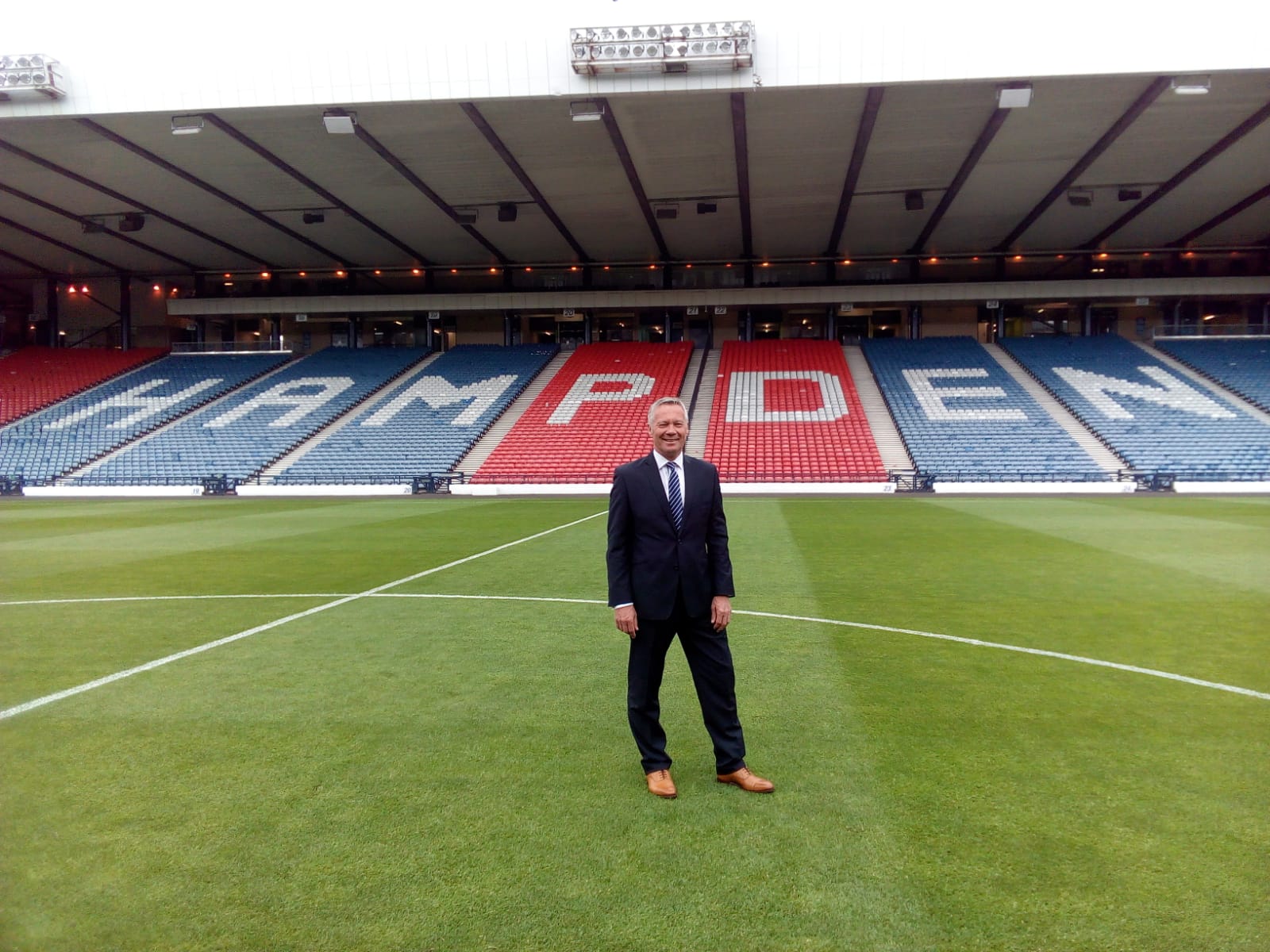 A Typical European Trip By Alastair Mather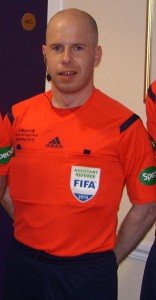 What does a typical European trip entail?
Typically a trip starts with my alarm going off long before it's sensible to be getting out of bed! We travel the day before a game and my first flight will usually be to Heathrow or  Amsterdam where I'll meet up with the rest of the refereeing team. Most of the other guys fly from Edinburgh or Glasgow although I occasionally have Doug Ross (Moray & Banff association) for company from Aberdeen. On arrival in our destination we're met by liaison officer from the local football association who looks after the officials for the duration of their stay.
After checking into the accommodation there's normally an opportunity to visit the stadium for a light training session. This is one of my favourite parts of a trip – I love visiting new grounds and it's also a very welcome opportunity to stretch the legs after a day of travelling.
Following training we'll be taken out for an evening meal where we'll be joined by the UEFA referee observer and UEFA match delegate. This provides a great opportunity to hear about football in other European countries and also to learn from the observers who are all experienced international officials.
Day 2 of the trip is match day. The fourth official is required to attend the pre-match meeting at the stadium to check kit colours etc, but the rest of the refereeing team can enjoy a long lie, leisurely breakfast and the chance to take advantage of the hotel facilities. We'll normally go out for a short walk in the city in the late morning and stop for a coffee before lunch. After lunch, the refereeing team will have a brief meeting to finalise preparations for the match. Thereafter it's time for a siesta!
The refereeing team will meet again for a snack shortly before departure for the game and then it's on to the main event.
Post match there will be a de-brief with the referee observer who will, very thoroughly, go through all incidents in the match with the refereeing team and  provide feedback; generally, this takes place in a local restaurant or back in the hotel. It would be fair to say that the feeling of relief when a match has gone well is palpable – and can probably only be appreciated by fellow referees. Once the de-brief is complete, the refereeing team can relax and enjoy a post match meal.
Day 3 – travel home!
Do you get much opportunity to explore the city while you are there?
It's generally fairly limited. First and foremost we're there in a professional capacity so must be fully focussed on ensuring that we're fully prepared for the match, both physically and mentally. What's more, depending on the time of the match, time constraints can be restrictive as well.
Having said that, the timetable does sometimes provide a little scope and I recall being taken on a whistle stop tour of the main tourist attractions when we were in Rome. We were conveyed from our hotel to the Vatican City under police escort and then, having completed a swift tour there, were whisked off to see the Colosseum. Disregarding various traffic cones, barriers and security guards, our driver was always intent on parking as close to the entrance as possible. Sensing the arrival of somebody notable, I think it would be fair to say that the gathered locals and tourists were a little disappointed when 6 unrecognisable, peely-wally Scots disembarked from the people carrier!
Amusingly, one member of our team was particularly off colour having suffered from vertigo while climbing the winding steps of St Peter's Basilica. I'll protect his identity, other than to say he hails from Fife…
What has been your favourite ground you have officiated at this season?
That's a tough one as all the stadiums have been impressive – I don't think I've been to a bad one yet. SC Braga's stadium is particularly distinctive as it was carved out of a quarry and has a rock face at one end; it's fairly new having been built for Euro 2004. Galatasaray v Benfica was a great experience, a tremendous stadium and the passion of the Galatasaray supporters is well known, but I think the best atmosphere was at the Parken Stadium in Copenhagen for the Denmark v Albania Euro 2016 qualifier.
What is the most memorable match you have been involved in on a European trip?
Every trip has some memorable aspect so it's difficult to pick one, but if I had to narrow it down I'd pick three:
Juventus v Atletico Madrid  (December 2014) – this was my first ever Champions League appointment as fourth official to William Collum. Every aspect of this experience was memorable – the atmosphere inside and outside the ground, the tremendous stadium facilities and it was, unsurprisingly, a very tough game for the officials, especially in the first half.
Latvia v Turkey (October 2014) – this was memorable as being my first full international appointment as an assistant. Bobby Madden was the referee and, again, I remember this was a very tough assignment for the officials. Neither country had started their Euro 2016 qualification particularly well so were desperate to kick start their campaigns – it was a hard fought match in challenging weather conditions. As an aside, I also thought Riga was a very pleasant city so that added to the trip as well.
Monaco v Juventus (April 2015) –  Champions League quarter final. This was particularly memorable for the sense of occasion and the tension – Juventus had won the first leg 1-0 so the first goal in the second leg was critical. It was on a knife edge right up to the final whistle as it finished 0-0. Monaco's not a bad place to visit either!
Do you always go away within the same teams of officials, or does this change?
The teams of officials can change all the time. It's been great to have been away for games refereed by Kevin Clancy, Bobby Madden and William Collum this season.
Can you give us a brief overview of your past European Trips too?
My first European appointments were at u19 international tournaments in 2011 (Turkey) and 2012 (Portugal). In terms of club competitions, my first match was in the Europa League in 2013 – Omonia Nicosia v FC Astra. I was glad the game kicked off well into the evening as, unsurprisingly, Cypriot summers are very hot – the temperature at midday was around 45 degrees. I was a little concerned, as my hair's cut too short (!) to protect my head in such extreme conditions!
Since then, I've had the privilege of officiating at further matches in the Europa League, Champions League and Euro 2016 qualifiers.
This season started back in July 2015  with a Europa League qualifier in Podgorica in Montenegro (FK Mladost v Neftci PFK from Azerbaijan) and my last appointment, in December, was in the group stages of the Europa League – Lech Poznan v FC Basel.